The donkeys of Martina Franca
Asino di Martina Franca, a donkey breed from Puglia in southern Italy, has stolen our hearts. It is the largest Italian donkey breed. It is mainly associated with the municipality of Martina Franca from which it takes its name, but the area of origin also includes Alberobello, Ceglie Messapica, Locorotondo, Mottola and Noci.

In 2008 the total number for the breed was slightly less than 400. In 2007, Martina Franca's donkey was listed as 'endangered'. The robust body size, the sturdy feet and the proud and soft and social nature are an expression of the character and climate of this country, which are closely linked.

To socialize with the donkeys of Martina Franca you can visit the educational farm Russoli here in Martina Franca. In the future you can enjoy some donkeys on our site. We made a children's book with great pleasure about the donkey Gigi during his first steps in Martina Franca. The starting point of this story is a well-known Dutch proverb.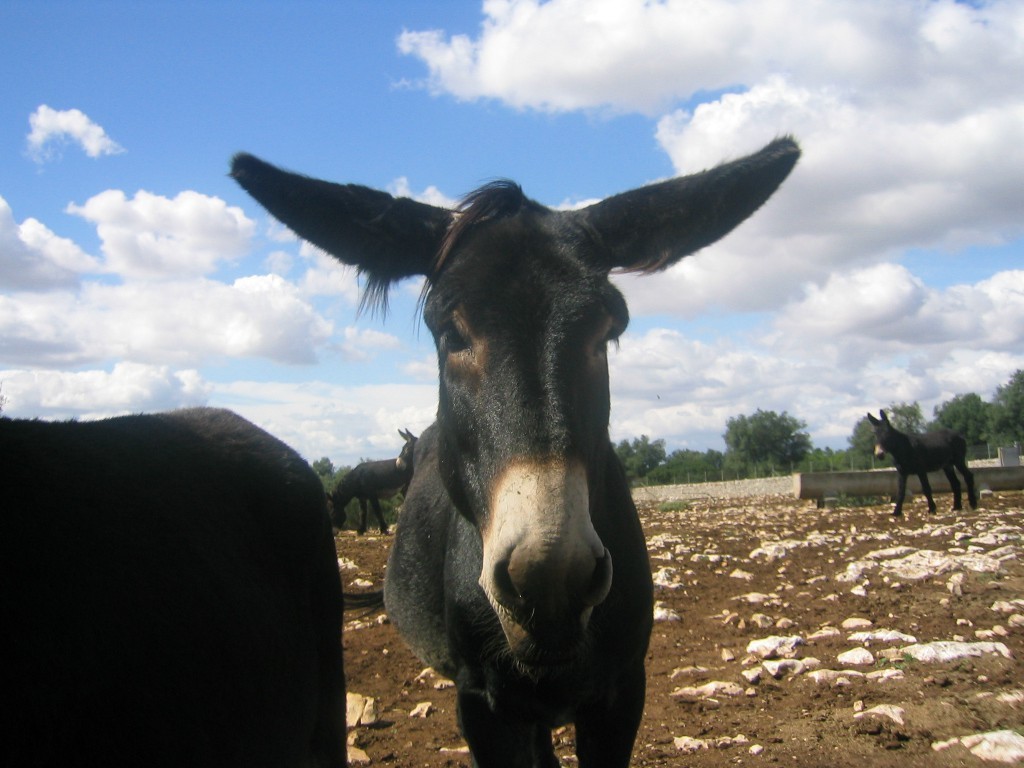 Book directly
Book your stay in our trullo directly through this website. We will then contact you as soon as possible to confirm your booking and discuss further details with you.
Plane

Yours Trulli is easy to reach by plane, the flight time from the Netherlands is over 2 hours.
Ryanair

flies from Eindhoven on Tuesday and Saturday and from Brussels Charleroi (sometimes 2x a day) to Brindisi. Ryanair flies from Weeze (near Venlo) to Bari on Monday and Friday.
Maastricht - Aachen airport has a direct flight to Bari on Sunday and Wednesday evenings.
Transavia

In the summer it flies daily, sometimes 2x a day from Amsterdam to Bari, and several times a week from Rotterdam Airport to Brindisi.
You can then choose from the options below:
Car rental

You can rent a car at both airports, we have good experiences with Europcar ourselves. From Bari you drive in more than an hour, and Brindisi in more than half an hour to Yours Trulli.
Train

If you choose to travel further by public transport from the airport, you can travel by train from Bari to Martina Franca.
Bus

From Brindisi airport you can arrive in Martina Franca via a transfer by bus.
Yours trulli,
Jeroen - Nicole
Book online
General
Spend the night
Products
Information